Plus 5 important fertility questions to ask your doctor
This blog was originally published on Fertility Road.
If you're struggling with fertility, it's highly likely that your stress and anxiety levels are already through the roof, even without a pandemic to worry about. Spiralling thoughts, the constant search for answers, the feeling of being locked in a calendar waiting for an indicator of the perfect time to try for a baby, can feel all consuming. The longer you struggle with infertility, the less hopeful you become.
COVID has disrupted absolutely everything, and if you're feeling even less hopeful because of it, you should be aware that you are not alone. Evidence from a study of couples during lockdown who were undergoing fertility treatment in the UK and Italy, shows that the impact of fertility clinics closing and delays in treatment has taken a significant toll on their mental health[i].
In this study, almost all of the couples had tests or treatment postponed (81.6%)[i], so it's little surprise they feared the worst and were left wondering what the delays would mean, and if they'd ever conceive. Anxiety and depression are both detrimental to fertility[ii]. Quite simply, you have more chance of getting pregnant if you're having regular sex, but in lockdown you might be struggling to even want to try.
Here are 5 simple tips to help you recalibrate your mind and power through the pandemic so that you are feeling mentally fit and in the best shape to make your next cycle of treatment count.
Look after your mental health and focus on the things you can control:
Face the COVID restrictions head on – Take control, organise your home, make your space as relaxing as possible, see friends at a distance and make your bedroom your sanctuary.
Limit your news intake – COVID is dominating the news, morning, noon and night and the stories are constantly repeated. Once you've listened in once, don't overload yourself with the same information again.
Give yourself a limit of using social media, and importantly be aware of how much you're using mobile devices – Long-term exposure to mobile phone radiation causes the number of sperm with progressive movement to decrease. Prolonged direct mobile phone exposure may cause sperm DNA fragmentation (damage)[iii].
Move your body – Exercise is great for both sperm health and mental health.
Create a daily plan:

30 minutes exercise each day – There are a vast number of free workouts on YouTube but avoid wearing tight lycra. Keep your testicles free from heat and increased pressure as this can reduce your sperm count.
Create a meal planner for the week – Plan tasty and nutritious meals for you and your partner. Cooking together can help you relax and reconnect as well as providing essential nutrients to help support healthy sperm[iv].
Schedule time to sleep – 8 hours is the dream! Even if you can't sleep, try to rest your mind and focus on the positive elements of your day.

Knowledge is power. Have a clear understanding of the causes of infertility:
Don't assume fertility issues are owing to the female partner. Sperm quality is very often overlooked and if you don't get your sperm DNA checked, you could be going through fertility treatment which isn't addressing the issue, and it may not be the right type of treatment for you.
Semen analysis is the only test offered to men. If you want your sperm DNA checked, you need to ask.
The fact is, you need male and female healthy DNA to create a baby. Semen analysis doesn't look at the most important element of the sperm – its DNA! Our research shows 80% of men checking out their fertility were told they had a 'normal' semen analysis result but were later found to have high sperm DNA damage.
Prepare a list of questions and discuss them with your fertility expert as soon as you can.
To catch up on the backlog and to comply with social distancing requirements, many clinics are organising virtual consultations – attend yours prepared. They won't routinely ask for male medical history, so make sure you present it. You will not be offered a sperm DNA test unless you request it. Exact sperm DNA tests are available in over 80% of the UK's top fertility clinics. Your test results will be delivered to your consultant in just 10 days of the lab receiving your sample.
Multiple cycles of IVF and ICSI are being interrupted and delayed at the moment. While we await a vaccine to combat coronavirus, the environment around us remains uncertain.
It's important to recognise that you have the power to improve your fertility. You can take control of every day and get your mind, body and sperm in much healthier shape, so that you have the highest possible chance of success.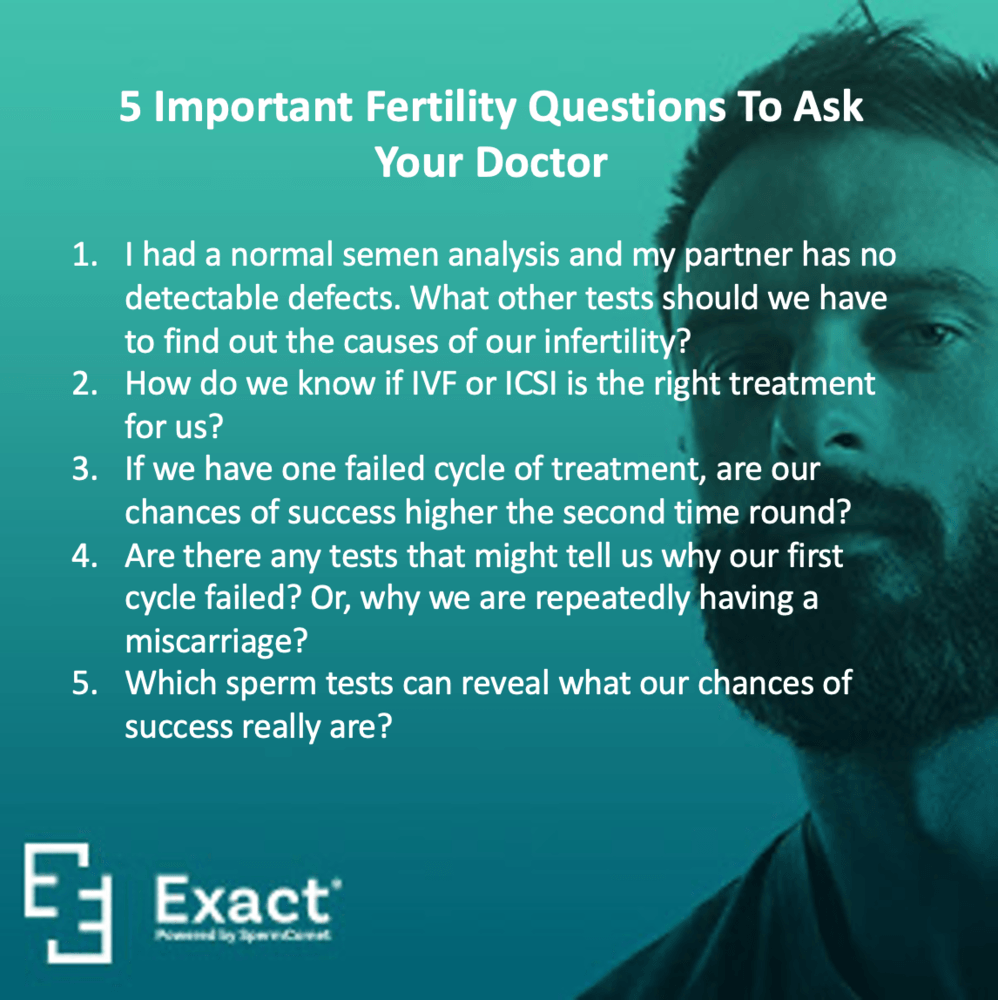 References
[i] Karavadra,B.,Morris,E.,& Balen,A. (2020). Exploring the impact of patients undergoing fertility care in the UK; a biphasic study. ESHRE 36th Annual Meeting (2020, July 5-8), https://www.eshre.eu/ESHRE2020
[ii] Ilacqua, A., Izzo, G., Emerenziani, G. P., Baldari, C., & Aversa, A. (2018). Lifestyle and fertility: the influence of stress and quality of life on male fertility. Reproductive biology and endocrinology: RB&E, 16(1), 115. https://doi.org/10.1186/s12958-018-0436-9
[iii] Gorpinchenko, I., Nikitin, O., Banyra, O., & Shulyak, A. (2014). The influence of direct mobile phone radiation on sperm quality. Central European journal of urology, 67(1), 65–71. https://doi.org/10.5173/ceju.2014.01.art14
[iv] Salas-Huetos, A., Bulló, M., & Salas-Salvadó, J. (2017). Dietary patterns, foods and nutrients in male fertility parameters and fecundability: a systematic review of observational studies. Human Reproduction Update, 23 (4), 371–389, https://doi.org/10.1093/humupd/dmx006